My husband has been sick for the better part of a week and I made honest to goodness Jewish Chicken Soup to help speed his recovery. I was fortunate enough that years ago my mother in law taught me how to make this wonderful soup to cure what ails you. There are some secret ingredients and special methods so I wanted to share the recipe and technique with my blog friends.
Ingredients:
One whole chicken cut into pieces (or 4 large chicken breasts) including skin
One large onion - quartered
One bunch (or bag) of carrots - cut in thirds
One stalk of celery - cut in thirds
One bunch of fresh parsley (tied in a bunch)
*One bunch (or bag) of parsnips - cut in thirds
*One bunch of fresh dill (tied in a bunch)
Salt & Pepper to taste
*the last two ingredients are the secrets to making the perfect soup.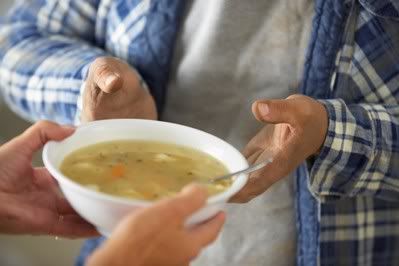 In a large stock pot combine all ingredients and cover with water. Bring to a boil and continue cooking on medium heat for at least 4-6 hours (covered). Make sure to skim the liquid several times during this process (my mother in law used to call this skimming the shum). Continue to add water if the veggies or chicken aren't covered.
Remove veggies and discard (they should now be cooked to death), remove chicken and reserve. What you should have left is a huge pot of stock with nothing floating around.
De-bone and discard the skin. At this point two things can happen. You can either shred the chicken and return to the stock or reserve the chicken for another recipe (which is how I was taught to do it - and I'll share that too).
Add to the stock thin noodles and boil until fully cooked (about 6 minutes).
*However, I was taught to make dumplings (matzo balls) and the meal can be purchased in any large grocery store - it's called Matzo Meal. The recipe to make the dumplings (matzo balls) is on the box. Where the directions call for water, substitute with club soda to make your dumplings light and airy. Cook in salted water per the directions (about 20 minutes). Reserve the dumplings until just before serving (so you'll know how many you will need for dinner) and reheat in the soup. Unused matzo balls can be refrigerated in a tight plastic container for left-overs - not stored in the soup.
*I was taught to make dumplings versus noodles as the latter will tend to make your soup a bit starchy.
____________________________________________________________________________________
What to do with left-over chicken not returned to the stock pot - (what I was taught). Per tradition the chicken soup should be clear with the exception of noodles or matzo balls and I was taught to use the cooked chicken a second time, for another meal.
Place chicken in a oven proof dish (pyrex) and cover with Catalina salad dressing. In a 350 degree oven warm until the dressing is bubbly. Catalina Chicken can be served over noodles or rice for a great second meal.
Enjoy!

Please visit my CremeMagnolia Etsy store to take advantage of my March Madness 25% discount sale!