Less than a month ago, after reading thousands of blogs, I entered the realm of writing my own blog. When I made that decision, the world as I knew it changed. Writing a blog is a commitment, not to one's self but to followers and potential followers. I quickly found out that it takes "grit" to develop an interesting blog several times a week, or every day as in my case. Developing a way to motivate oneself to the craft of writing is probably one of the most difficult things – after topic.
I have a term for the prolific or would be prolific blogger, "blog mode." I begin every day in blog mode. Because it's quiet and I get up early, this is the best time for me to write a blog. I rarely promote my Etsy shop (exclusively) and only use Treasuries when I'm just worn out from the week – I call this my cop-out day (but that's just me).
It's not easy to get into "blog mode" so I have developed an exercise that works for me. Instead of wracking my brain about a topic and dragging myself to the computer to compose, I know from the time I get up in the morning that I am going to write a blog. My routine does not vary because I have made the commitment to my followers and to myself; "today" I will blog.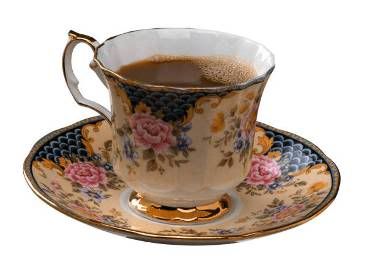 While having my first cup of coffee, I sit quietly and simply look around my living room. I carefully look around at the different objects and think, blog. I continue to look around and think blog and ponder whatever object my eyes rest on. I let my mind and thoughts wonder all the while thinking blog. Finding a topic as any blogger will attest is an arduous task; and as I continue to let my mind wander, a topic, or several will simply pop into my head. At this point I don't dash to the computer. I finish my coffee, keep looking around, let my mind completely wonder, and dismiss a handful of topics that just come to me.
I maintain that having a great topic is the motivation for blogging. Some people only blog a few times a week, some everyday. But if you have a great topic every single day of the week, you'll blog every day of the week (time permitting). It's kind of like having cake; if there's some left in the fridge, you'll have it for breakfast!
Putting pressure on oneself to find a topic is no way to motivate oneself to write a blog. Rather, make it easy as eating cake. Make the commitment, whatever commitment you are comfortable with. Pick a time that is best for you to write, and don't vary from that time if at all possible. Let your mind simply wonder, and as you do think the word blog - but not so hard as to push other thoughts out of your brain. In my case after a month of using this exercise I have observed that it only takes me two or three "thoughts" of the word "blog" until my mind rests and begins a creative thinking process.
While I can't guarantee my method of creative thinking and motivational processes, I can guarantee that once the commitment is made its part of our lives, and one that will continue. It is said that it takes 27 days for something to become habit…try it for 27 days and see if my "blog mode" works.

Please don't forget to stop by my CremeMagnolia Etsy Store and check out the 25% discount sale!