Here we are in the shadow of St. Patrick's Day. I'm about as Irish as it gets, well Scotts Irish I should say. My mother was Irish and my father Scotts Irish. For this reason March is my most favorite month of the year, I love St. Patrick's day!
I'm one of those lucky
Etsy Sellers
who have a very diverse clientele. Crafters who make jewelry, altered art and steam punk, up-cycle artists as well as mosaic artists. Each medium utilizes a myriad of components to create their art. I sell everything from antique baby spoons, designer glass gems, Compodemonte porcelain flowers and mosaic tiles (as everyone knows).
One of my favorites are the designer glass gems. I use clear gems (or globs, half marbles as some refer to them) which are flat on the back - and I make them in all sizes and colors. I have hoards of designer fabrics which I use to back the gems. It's the cutting process that is the most tricky as the blade is running around glass and becomes dull very fast. I trim the fabric from the gem and then add a heavy coat of sealant to make them ready for any project. All it takes is a very steady hand and patience.
Jewelry makers use the gems along with a bezel to complete their creations; mosaic artists use them for embellishments; altered art crafters use the gems as embellishments for everything from small tin can art to multi-media projects. I also have customers who simply affix magnets and resell them for refrigerator "helpers." Locally I have even had customers who crochet, knit and felt use the small gems to incorporate into their projects (and frankly I don't know how they do it).
Today I want to share some of my glass gems - I have dozens of sets and am always making them for local customers. Take a look they are really fun. You can see more in my
CremeMagnolia Etsy Store.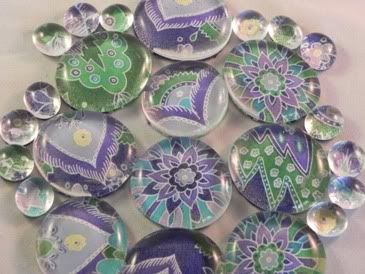 I have sold more of this pattern than any other.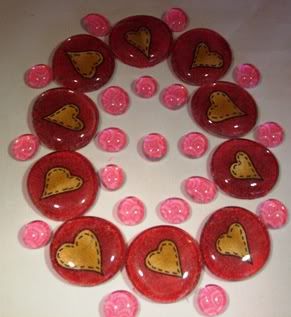 This fabric is just the cutest and I had to make them!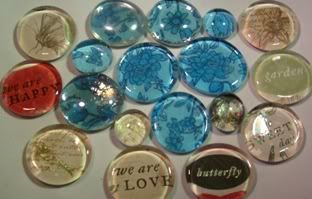 This was a custom order made with heavy card stock.
Another custom order that turned out so pretty that I made a set for my Store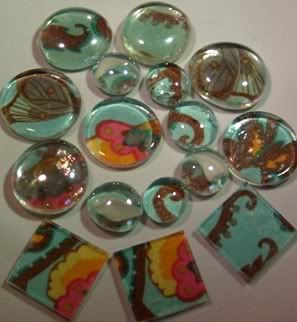 This set was another custom order that I also included in my Store
I use high quality glass gems in all sizes and shapes and regularly take custom orders. Since there is an infinite range of colors and pattern in fabrics I can always complete a custom order, ready to ship in 4 days...they do take some time to completely dry before cutting. Stop by
CremeMagnolia on Etsy
and take a look; if you see a shape or size you like but want another color, do let me know, I'm happy to accommodate!