So OK, I may be the very last person on earth that doesn't have a Twitter Account. I have an Etsy Store, Write a daily Blog, Chair the Etsy Blog Team and I became painfully aware of the need to "tweet." Not that I really have a desire to send 140 character messages mind you ~ it's just that I'm asked 140 times a day to "follow me on twitter!"

So off I went to t.com just to set up my account and it was suggested that I "follow" at least 10 of the suggested accounts under the tab I chose ~ well I chose art of course. Needless to say I couldn't find much accept people touting their philosophical rants or political views. I then had the brilliant idea to follow my favorite T.V. shows.
Once I had chosen my first ten "tweeters" to follow I was sent to my profile page where I needed to make a plethora of decisions...and it's way too early to make decisions. I get it, right decision, cool tweeter; wrong decision, bad tweeter!
Apparently the application TweetDeck is an absolute MUST! Another group of questions, choices and clicks and whirs on my computer. Did I click on all the right buttons, did I make the right choices? Have I read all the rules and regs and am I going to begin receiving tons of email?
Over an hour later, I am now a Twitter affecianato (sp??). The last time I invested an hour into anything I was getting paid! So as I write this I have a
Facebook Fan Page,
a
Twitter
account a new blog team,
Etsy Blog Team
and last but not least I contribute to a blog about the
Etsy Blog Team
!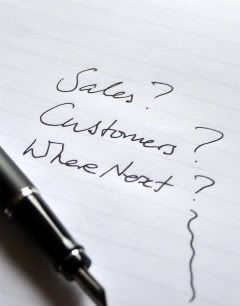 As I write this I have invested over two hours today just setting up Twitter and copying and pasting links into this post. If I've gone astray and (miss) posted a picture of my cat instead of the "right" link...deal with it ~ but I'm connected~