I write and read tons of blogs. I get that spam is a real problem for those of us who tackle a part of our lives in the blog hemisphere. But I have a complaint that there is nothing, absolutely nothing I can do anything about. WORD VERIFICATION when adding a comment!
I think once you are a registered "follower" you shouldn't have to verify your comment...after all, how many porn spammers are named CremeMagnolia? But that's just me. I have my blog set to post immediately, I simply don't have time to moderate. And I know that anyone who posts to my blog has to verify their post...sorry I can't help it.
However, since word verification is the way of the land, why don't the big blog hosts make the words easier to read? It is on rare occasion that I actually get the verification right on the first try. Maybe it's my eyes, glasses or just my fingers but I never seem to get it right! I even had special prescription glasses made just to use at my computer...and the verification continues to slap me in the face on a regular basis.
I know I can't be the only one to have this problem. There are bloggers of all ages on the internet and I find it hard to believe I am the only one to loath the word verification process! Speaking of ages, here's a couple who probably have my problem: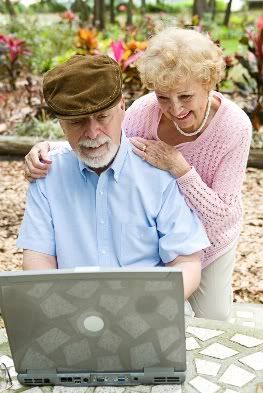 I'm off to verify some more words! Ciao for now.